Ad Specs:
Design Your Own
Right Click and Save As to use as a Template: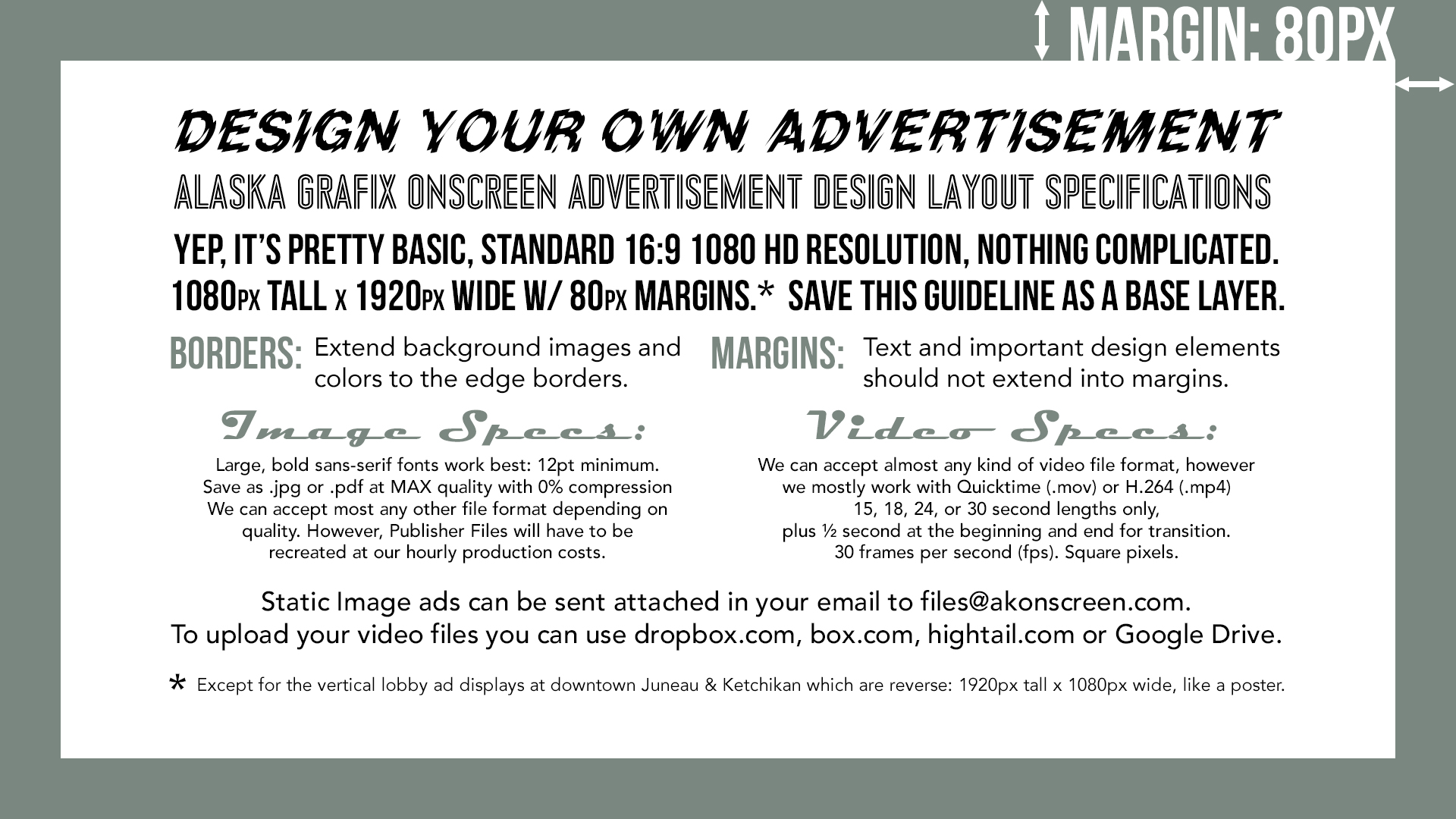 Image Specifications
Use the image above as your background template. Image Size is 1080px X 460px. Extend your background image, color or design to the outer edges. However, please contain all text, logos and ad images inside the Design Area which includes 80px margins on both sizes and 30px margins at the top and bottom. Large, bold sans-serif fonts work best at 12pt or bigger.
When you have completed your final design save the file as .jpg or .pdf at the highest quality with 0% compression. Other formats may be acceptable depending on quality.
Because of the way Microsoft Office products rasterize images we will not be able to accept Word, Publisher or Power Point files. Our graphics team would have to redesign the ad for you if that is the only format you can provide and you will be charged additional production time.
Email your final design image files to . Please contact us for menu board design specs if you are planning to design your own ads for the concession menu boards.
Video Specifications
Use the same template image above for setting your video specifications and be sure to keep your text, logos and ads images inside the Design Area. Composition dimensions are 1080px X 460px NTSC. Use square pixels at 29.97 frames per second. Ad display times can be 15, 18, 24 or 30 second durations plus a half-second at the beginning and the end for transitioning between other ads. When your video is complete and final save the file in Quicktime (.mov) or H.264 (.mp4) format at as high a quality bit rate as you can save the file.
Because this video layout is a high ratio widescreen format if you are incorporating conventional video into your ad, you'll either have to crop the top and bottom of your imported video or place your imported video inside the Design Area on the right or left and fill the empty space on the opposite side with either contact information or a QR Code. See our Examples section on how to incorporate conventional video into your onscreen ad.
Once your video file is ready please send to for free using yousendit.com, Google Drive or any of the other FTP or file transfer options available on the internet. Please do not send hard copy media to our postal address because of cost, time consideration and risk of damage.
Our professional graphics team at Alaska Grafix can design your advertisement for you, whether it be a static image ad, animation, video and/or provide audio if you chose. We charge $50/hour for production time, but your first hour of design production is free. Static image ads can take 1 to 3 hours to produce and animation, video & audio can take anywhere from four hours to much longer, depending on the complexity of how many different elements you want to include in your advertisement. Alaska Grafix also offers logo design and can provide professional media equipment for on-site filming, which would be added to your total production time.